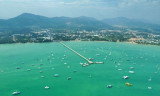 Ao Chalong bay (Thaïland)
This is Phuket's principal boat anchorage and the island's largest bay, 11 kilometres south of the town.
It is very picturesque but not suitable for swimming.
Boats can be chartered to go to some small island south of Phuket.
The best anchorage is on the north end of ...