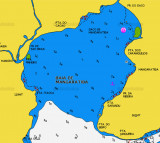 Bahia Ilha Grande N shore ( Angra dos Reis)
Baia de Mangaratiba is entered between Ponta do Bispo and Ponta da Cruz. This shallow bay is exposed to the sea, which breaks heavily on its NW shore. The town of Mangaratiba stands on the E side of the bay and has a small concrete pier.
Laje de Mangaratiba, low, dark-colored, ...