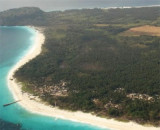 Sawai bay (Car Nicobar)
Sawai Bay indents the NW coast, between Keating Point and Hog Point, about 3.5 miles to SW.
Foul ground extends 1 mile N from Keating Point and 0.5 mile N from Hog Point. Sawai Village lies 0.5 mile SE of Hog Point.
The tidal currents off Sawai Bay set NE on the flood tide.An ...