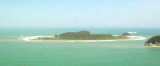 Pulau Raya (W Sumatra)
Pulau Raja is densely wooded and about 53m high. A yellowish sandstone rock, about 0.9m high, lies on a reef which extends about 0.2 mile NW from the W extremity of the island.
The coast extending SE of Raja Bay is skirted by reefs and above-water rocks within 1 mile of the coast, ...