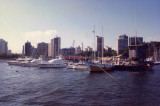 Iate Club do Esperito Santo (Vitoria)
.Vitoria is a pleasant, modern city in the state of Espirito Santo, with a very busy port. Consequently, there tends to be quite a bit of noise from the industry across the bay. The Iate Clube de Espírito Santo is very welcoming to foreign cruisers.
It is a port of entry.
If ...