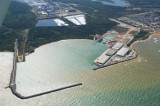 Port of Portocel (Barra do Riacho)
Port protected by a breakwater. It is the only port in Brazil that is specialized in shipping pulp.
Portocel is located in the Barra do Riacho district of the municipality of Aracruz, on the northern coast of the state of Espírito Santo, 30 nautical miles (70 Km) north of the ...