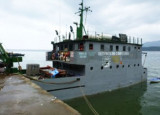 Bahia Solano (Pacific Coast of Colombia)
Approching, keep more than 2 NM off Punta Solano because of off lying rocks.

This is a Port of Entry and is a useful one if coming from Panama, being towards the north of Colombia's pacific coast.The bay is well protected but is open to the north. There is an anchorage not ...