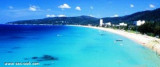 Patong Beach (Phuket)
The main tourist area of Phuket.
A large bay with best anchorage's located in the center and southern end of the bay.
Don't park to close to the shore to avoid the numerous jet skis and parasail boats.
All eating and other preferences are available in Patong, including ...